Opera the Game
What do computer games and operas have in common? At first glance, not much, except that both take their viewers into another world to tell a story. This intersection alone is enough to make digital production techniques interesting for art and culture. A successful example of such a crossover project is opera – a future game, which implements elements of a classical production with Unreal, a 3D game engine.
We support the post (opera) video game essay with technical know-how and practical support

Prequel
Originally, the piece was to be performed at the Munich Biennale in 2020 and later at the Opera Halle. But due to the pandemic, it was only played in excerpts on the radio. In order to make the production physically accessible to the audience, visual effects were added and expanded into a walk-in video installation.
Thus the basics for a digital production were created and this is where we come in.
OPERAtive Support
We support the director Michael v. zur Mühlen in the technical implementation and further development of the original installation. In addition to self-help workshops, this includes the optimization of 3D data, character animation and UX design.
Video Game Essay – What is it?
This bulky term refers to an open world game in which the player can move freely. However, it's not about reaching a goal or cracking the high score, but exploring the world, discovering dialogs and letting the atmosphere take effect on you.
In terms of content, it's an exciting mix of futuristic and equally post-apocalyptic doomsday atmosphere, with elements of contemporary opera sprinkled in. Thus, cyborgs and raining down pigs find a place on the theater stage just as much as a choir that seems to suffer from amnesia.
Sounds very experimental? It is! But that's exactly what makes this form of presentation interesting for a broad target group, which includes not only classical opera-goers. Fittingly, the premiere in November 2022 was not in an opera house, but at the gaming fair Next Level Festival Essen.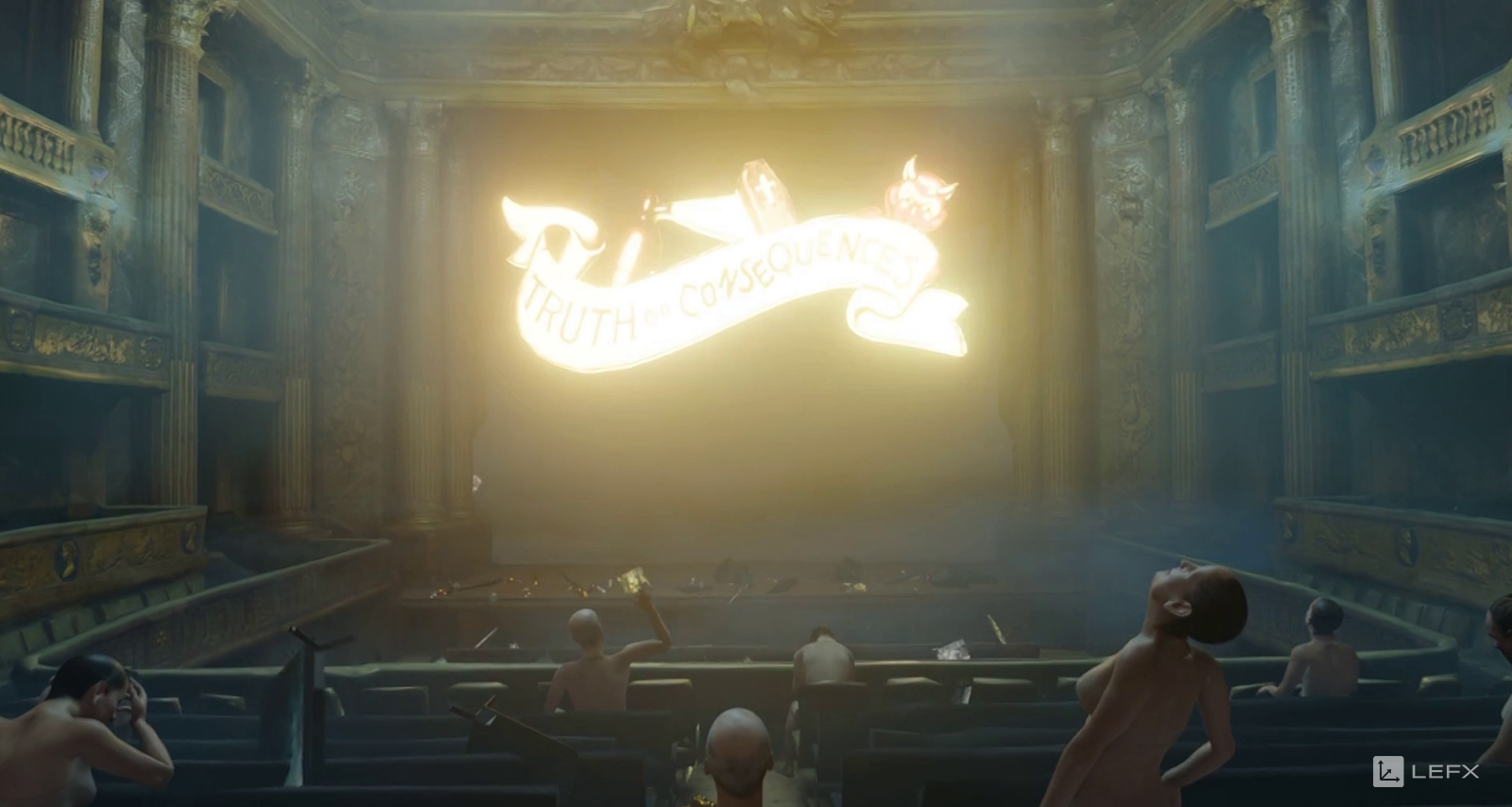 Credits
Game design, direction and animation: Michael v. zur Mühlen
Space and equipment: Martin Miotk
Music: Ole Hübner
Text: Thomas Köck
Camera and editing: Stefan Bischoff
Sound design: Martin Recker and Paul Hauptmeier
Developed in cooperation with LEFX GmbH from Leipzig
With image and sound recordings by Michael Taylor, Robert, Michael Zehe, Halle Opera Chorus, Halle Opera Children's and Youth Choir, Halle State Orchestra.

MDR KLASSIK production of excerpts from the opera, September 2020 in Halle.
Musical direction: Michael Wendeberg
Sound engineer: Michael Leverkus
A cooperation of the NRW KULTURsekretariat and the Next Level Festival for Games with HELLERAU – European Center for the Arts
The underlying work "opera, opera, opera! revenants&revolutions" is a composition and libretto commissioned by the City of Munich for the Munich Biennale