Scaling digital training worldwide
At first glance, the development of digital training for the logistics sector sounds like an everyday use case for us. It gets exciting when DB Schenker, a global player, comes into play: As an internationally active logistics service provider, the company has a large number of locations where digital training is to be used step by step.
But how do you roll out a new training system in such a large company? In addition to the buzzword scalability, we primarily relied on a dynamic modular solution and an innovative streaming platform. Let's get it done!
Think Big – Start Small
In the logistics industry, efficiency is enormously important, because time is money. In addition, customers expect smooth delivery processes, which can be the decisive competitive advantage. Accordingly, processes must be optimized and the workforce must be appropriately qualified – Which makes this scenario a perfect application area for digital training.
DB Schenker is no stranger to digital training: there have already been positive experiences with a pilot project, but DB Schenker has pursued the goal of breaking new ground in terms of rapid feasibility and cost efficiency.
Even if packages are shipped similarly around the world and internal company processes are comparable, here too the devil is in the details: even if the general conditions are the same everywhere, there are customer-specific deviations and peculiarities. For example, the sequence of certain processes, different filing systems or country-specific differences in the shipping system.
That's why we relied on a modular system based on the VR Builder from MindPort GmbH. With this, our customer can customize the trainings in-house. In this way, we combine the simple handling of a standardized process editor with the detailed reconstruction of real workflows that only a custom-made development can offer.
For the feat of cross-national logistics training to succeed, a solid foundation is needed, which in our case means a detailed model process.
To this end, we worked closely with DB Schenker to record all processes in a script: In addition to the detailed mapping of requirements, the level of accuracy and abstraction was defined here at the same time. Keyword expectation management check!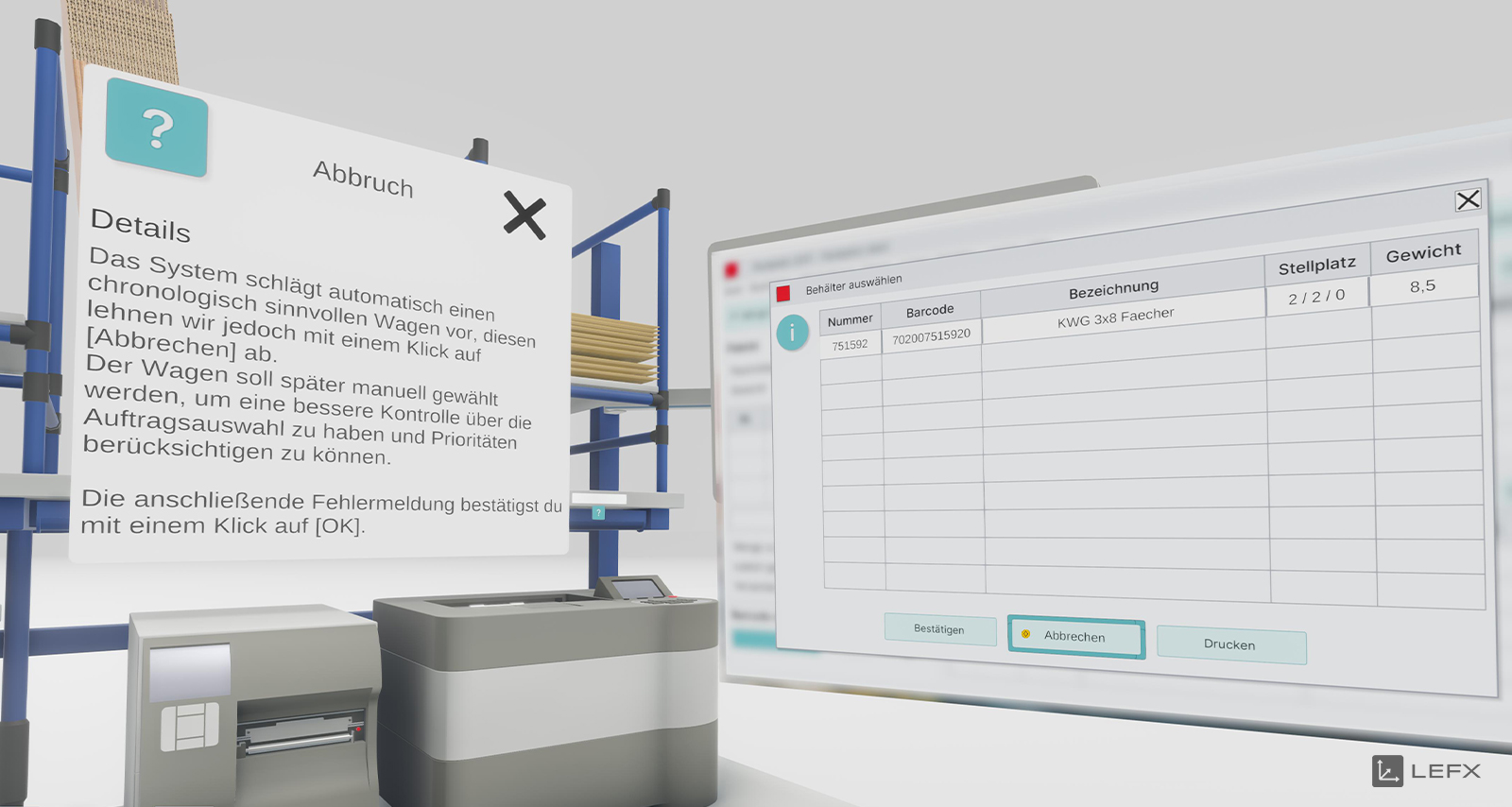 Let's pack!
In short, this is what our training is all about, as we are currently training the areas of packaging, consolidation and shipping.
Here, we do not limit ourselves to the physical handling, but integrate a software training, in which the processes within the logistics software used in the company as well as the use of the hand scanners are learned at the same time. On top of this, multiple-choice questions can be used to test theoretical knowledge and correct sequences of actions.
To ensure that the immersion is successful and the trainees can concentrate fully on the content, we ensure intuitive handling and guide them through the application using pop-up windows and parallel audio output. In addition, there are interaction points that show where to find something or what to do next.
In this way, we replaced the classic on-site training with a great deal of supervision – and all without disrupting day-to-day business. Just one advantage of virtual training.
Hardware as a limiting factor? Not with us!
When it comes to scalability, hardware is a factor that should not be neglected, even from a financial perspective. We counter this with a clever multi-channel solution:
Even though we developed the training primarily for the PC-bound HTC Vive Pro headset, the application can be used with a wide variety of VR headsets, whether PC-bound or stand-alone, as well as on the desktop – a normal office device is sufficient for this purpose.
How does it work? We use the Innoactive Portal platform to create a Netflix for training applications, so to speak, from which any training can be streamed regardless of location.
In the creation process, we take into account the limited performance of the devices and use a reduced, clear art style that can precisely depict all relevant processes without overloading the computing power.
Scale it and you make it
With this training we have laid a solid foundation for the training at DB Schenker AG and have
brought our training to a new level.
Our formula for scalable digital training:
Platform: standardized kit that is nevertheless tailored to the customer's exact needs

Customize: trainings are customizable in-house by the customer

Hardware: application runs on many different devices

Connect: worldwide roll-out and bundled access control possible thanks to portal

Compare: digital training promotes cross-site standards through better comparability

Scale: the more trainings are mapped, the more cost-effective the individual training becomes
What does the customer say?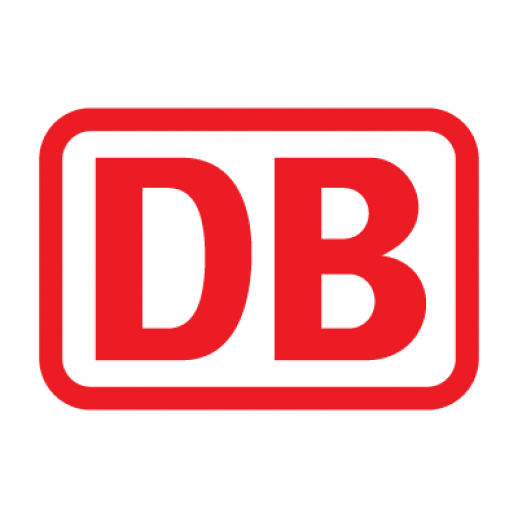 "In the logistics industry, digital training is an effective and innovative solution for onboarding and professional development. It allows employees to experience realistic replicas of our logistics processes in a virtual environment and improve their skills without using real resources or equipment. Through this hands-on training, we increase the motivation of our employees, reduce training efforts and lower the error rate. Thanks to the training platform, we have the basis for driving this issue forward throughout the Group."
Christina Kunze, DB Schenker AG
Digital training platform Trailer